The Best Laid Plans
Nanakorobi yaoki. Fall seven times, get up eight. This blog has been dark since July and I've learned a lot about this Japanese proverb during that period. It's been a testing time, physically and mentally. I'm not complaining, I'm very conscious I lead a blessed life. Yet my life has challenges, as I expect does yours. Those challenges have given me time to think, time to reflect. Time to decide to get up an eighth time, and try to be the best version of myself.
I had my plans all laid out for the year, personally and professionally. But guess what? – life isn't fair and reasonable people know that. My year started well, but I drifted into a double whammy of personal challenges during the early summer.
First The Body
I tore a medial meniscus in my right knee in early June. May had been a heavy training month, maybe it was that. I know the knee 'popped' four years ago when I was doing some heavy deadlifting, but with no aftereffect. I've not really considered myself as someone with knee problems. But, I went to bed for a nap after a tough workout one Saturday and woke up unable to walk. That was the end of Project 64. Life gave me a lesson that being 64 means you're not indestructible any longer. I knew I wasn't, but sometimes I don't let facts get in the way of determination.
Mild to moderate osteoarthritis in my right knee, mild in my left knee. A torn meniscus in the right knee as said. The consultant told me that people of my age don't get operated on. Keep it strong, if it gets worse, a cortisone injection will ease things for six weeks or so. Perhaps in 10-15 years' time a knee replacement.
That seemed a decent outcome. Yet for weeks I could hardly walk. Ironically the most comfortable I felt was when cycling. The miles weren't getting logged though, and I didn't know why. Fall seven times, get up eight was in my mind each day I climbed on the bike or went to the gym.
Then The Mind
Looking back, it was all so obvious. The miles weren't getting logged because my mental health was turning for the worse. I had been dealing with depression and anxiety for a couple of years. The anxiety was getting worse. I was not having a great time. At times, neither were people around me. Which is something I regret. I'm alright with dealing with my own stuff. I'm not alright when my stuff affects other people negatively.
My anxiety was overwhelming me. A strange phenomenon was me getting anxious about small items, letting them swirl around my head night after night. Making sleep a precious treasure just out of my reach. Three in the morning, there I was solving one small issue in my mind, then another one popping up. And on and on. Then around five o'clock getting out of bed and going to drink coffee and pass the time until the rest of the world decided to wake too.
Thankfully I had great support around me. It's sobering to think that many people don't have the right support around them. That must be a desperate situation to have to confront. Six months later the fog has lifted a little. I have new skills and techniques to deal with what happens with the chemicals in my brain. Life is calmer. The dizzying spiral of too long hours, too little sleep, severe anxiety and fear-driven anger painted me into a black, black corner. Looking at myself as though I was having an out of body experience. Sometimes a stranger to myself.
The Journey Continues
Here I am now on a new journey of self-development, having regained my inner calm. Feeling excited and optimistic about the journey. Starting to enjoy life again, yet at the same time knowing that mental health issues can build you up, and then smash your being into fragments again. Fall seven times, get up eight.
I chose to be open with people about it. I told all the staff I worked with exactly what my experience had been, and what I was doing to address my health. I've found myself being straight to the point with people I know in general. When asked how I have been, I have been open in a very level way out my mental health and where I am now. I do this to play a tiny part in normalising the discussion on the all too common issues many of us face with our mental health.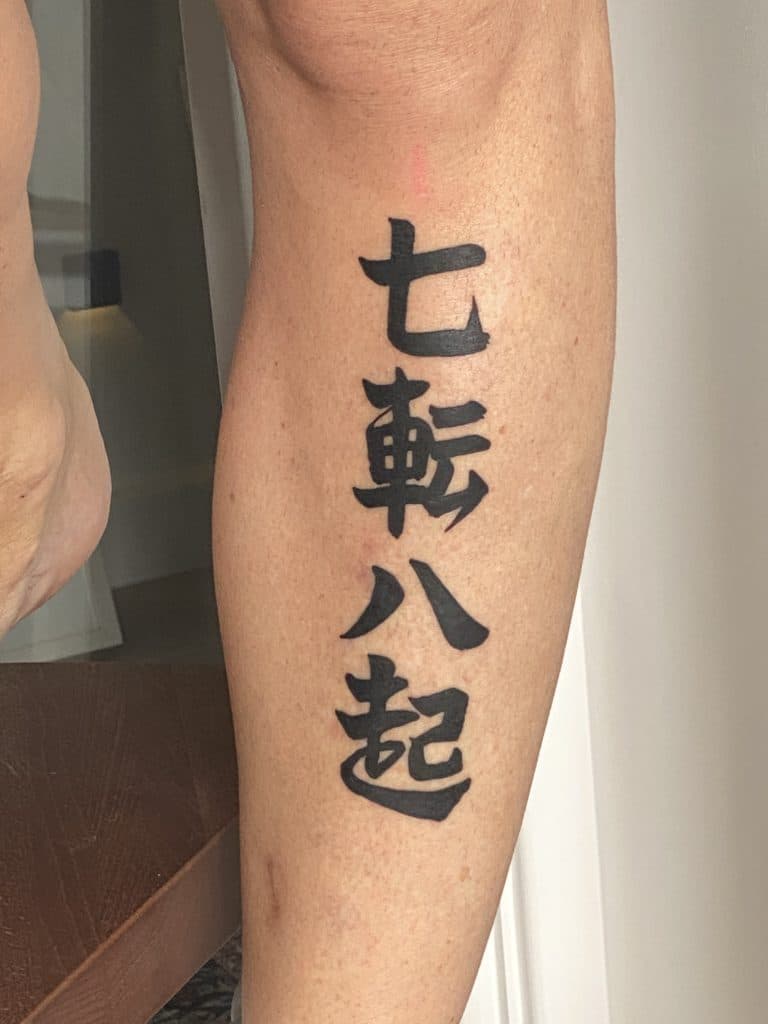 Nanakorobi Yaoki
I'm 64 and had a tattoo done. Nanakorobi yaoki. Fall seven times, get up eight. I've gotten up for the eighth time this year. I live a life with a lot of blessings; yet we know life can be unfair too. Largely life has been kind to me. I'm determined; as a great friend once said "you never, ever, ever give up." Which is true. And it has helped me this year, there have been moments when I thought it's too hard to rise for that eighth time. But up I got. The tattoo is an everyday reminder to always rise.
I find myself looking to learn more about myself. The people around me. My life skills. The positive things the world, this existence has to offer. I feel bright, positive. I'm learning every day. It's a short life, it passes by in a handful of heartbeats. So it's important to move forward. Reflection is good. Rumination and regrets have no place for me, they haunt me, but they can't help me. So I keep moving forward. On rising the eighth time I didn't want to stand on the spot.
Small Changes, New Connections
Sometimes it is the small interactions that count. I fist-bumped a Big Issue seller on my cycle home today, we both smiled, we both in that second felt positive. I'm being very conscious to listen very carefully to people, to really connect. I'm being very aware of my surroundings, even in seemingly mundane actions such as the walk to the train each morning. It's easy to forget you're alive, it's easy to take this for granted and roll through your allotted heartbeats in our universe. Fall seven times, get up eight. It's powerful to get up and look to become a better version of yourself.
I found new friends along the way. Nick Frendo, the man behind the mental health and suicide prevention organisation ascnd.cc contacted me. I contributed to the journal on the website and enjoyed a great ride out with a large group of the cycling club that Nick has formed. I also spent some time talking to Alex Palmer of the Blackdog Cast and recorded a podcast talking about my experiences. I've had profound conversations with other members of my local cycling community in recent months. For all of us, the good news is it's getting a little easier to disclose mental health issues if the environment is right.
Fall seven times, get up eight. It's always worth that eighth time. If you ever think it isn't then reach out and you will find people willing to lend an ear and support you in any way you need.