Super Bowl Number Six
New England Patriots won another Super Bowl this February. Brady and Belichick squeezed the life of the formerly explosive Los Angeles Rams. The game was slated in some quarters as dull and lacking in flair and of course points. New Orleans Saint fans remain hacked off that their team weren't there to face off against the Patriots; I know this as the DJs keep making the point on WWOZ New Orleans which is currently on my Naim. I was fascinated by the game, even as colour commentators were starting to joke to each other about the longest punt of the night being the best play so far.
Two things were apparent. Bill Belichick, coach of the Patriots, had his team so well prepared and they simply confused the Rams QB to the point of virtual paralysis. Most of the time he didn't know what pass coverage he was looking at. While he was trying to figure it out, the New England defensive line was pressuring him with a wicked package of line stunts. The run game fared little better, with the Patriots front penetrating the Rams line to disrupt the zone block and cutback philosophy that had served them so well.
Brady The Closer
On the other side of the ball, the Wade Philips designed Rams defense gave New England a world of trouble. Philips too was disguising coverage and it gave Tom Brady some problems. With Suh, Donald and a ferocious linebacker cadre, it was a long night for the Patriots. But here's the thing about Brady: he is the ultimate game closer. He will sit and wait and wait and wait, then close mercilessly when the opportunity presents itself. Josh McDaniel made late game adjustments, putting a heavy two back and two tight end package on the field. It worked. So they went with again and again and a fourth time. The future Hall of Fame QB could see the jugular and went for it, culminating in the touchdown that virtually clinched the game.
Brady As Sportsperson GOAT?
The remarkable duo of Belichick and Brady did it again. Last year the story was they couldn't work together any more. This season Brady was past it and Bill had lost his mojo. But there isn't a better sports team in the world than the New England Patriots about planning for the long term and the relying on a process to an almost religious level. All their personnel and game preparation and in game adjustments rely on the process. It worked two years when they came back from a four touchdown deficit against Atlanta to win, the biggest Super Bowl comeback ever. It worked this year when their season long metamorphosis into an old school, beat 'em up running team dominated possession in the first half.
This team have been to 9 Super Bowls in 18 years and have won six of them. Tom Brady has won six national championships. Michael Jordan the same in the NBA. But I would argue the single game knockout format of the NFL makes things harder. While basketball is an arduous and physically taxing game, it certainly doesn't involve getting body slammed by 300 pound rampaging defensive linemen. It's a short season but ends up as a sudden death playoff and final, there is no series-based route to top dog.
Looking at other sports I thought of Lionel Messi and his four Champions League wins as the football (soccer) equivalent of the Super Bowl. Not quite the same dominance. Tiger Woods and four Career Grand Slams; no. Roger Federer and his twenty tennis Grand Slams; maybe. I also looked back in the annals of football and you can argue for any number of people. But to do what Brady has done; not sure I can think of a parallel.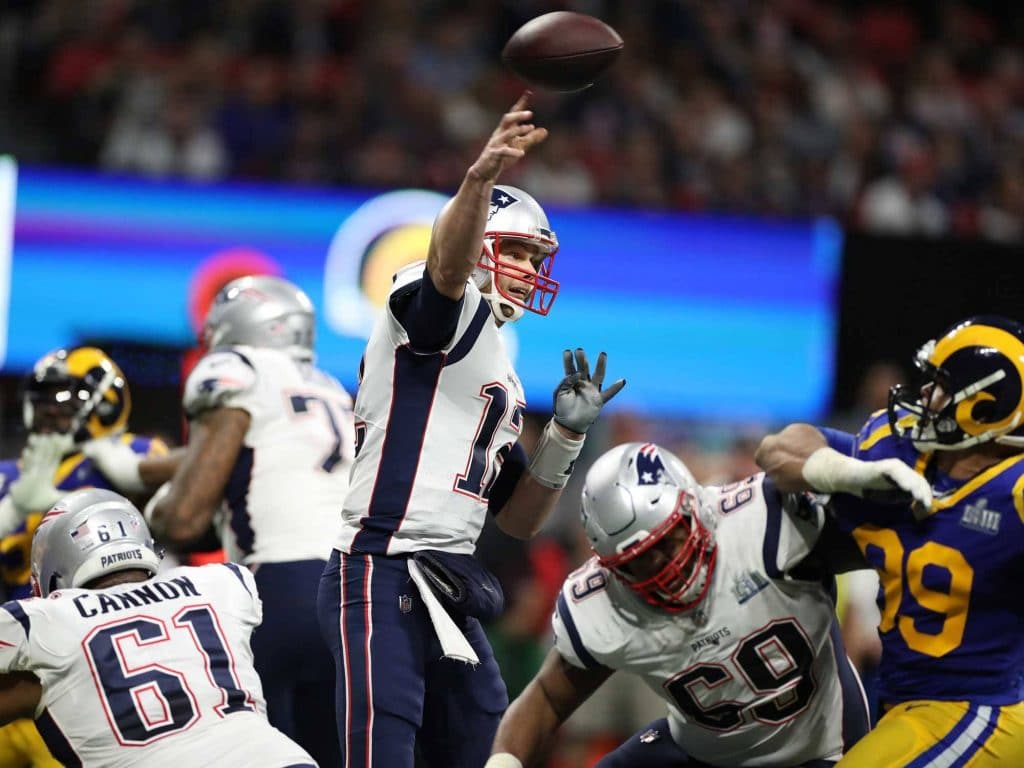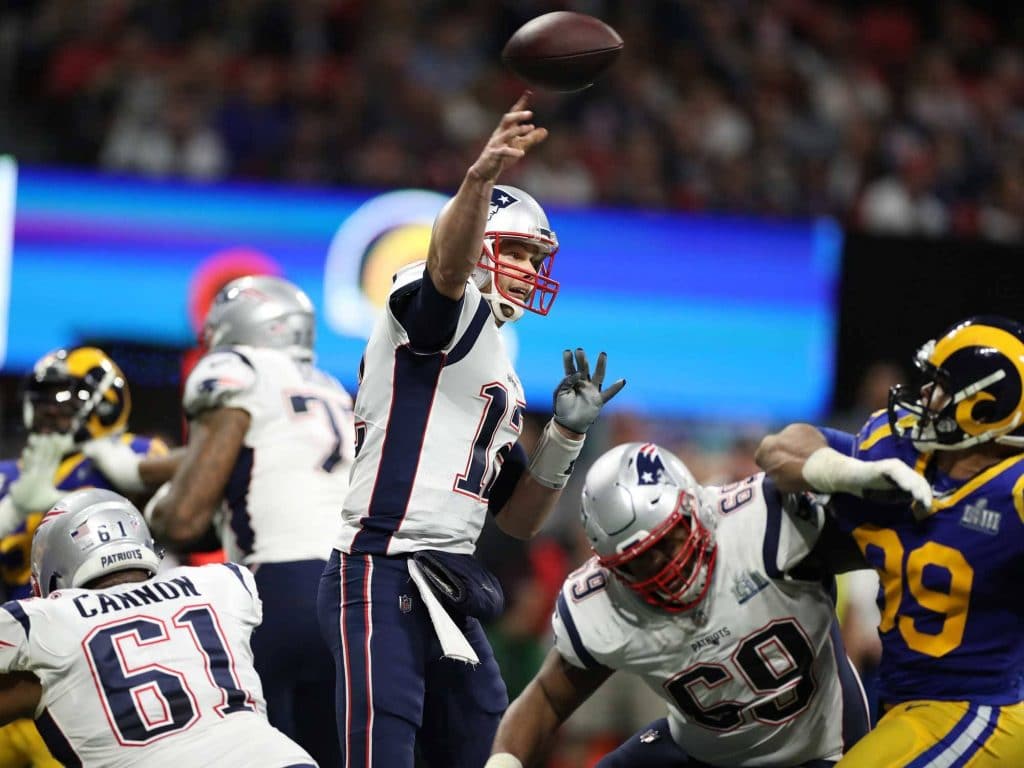 Belichick As Coaching GOAT?
Belichick is obviously a major facilitator of Brady's achievements and that's the only reason Brady is not an outright shoe-in for greatest of all time. He would not have achieved if he was outside of the philosophical and strategic framework put in place by Belichick. Strategy is an overused word, everyone thinks they can do it. They confuse having an opinion with having a strategy and that's a mistake. Bill has a strategy.
Bill Belichick is obviously one of the great students of football and that's very evident on game day. But it's not his strategic edge. His strategy was to recognise the salary cap as something which could over the long-term be used as an advantage. He has become the master of trading down in the draft. The master of amassing low round picks in exchange for cast off players. He has never shied away from salvaging some value for a late in the career star. He has built a system where he stacks his roster with solid football players who will be coached and will accept the discipline to fit within a structure and series of processes. It's why there are more Julian Edelmans than Odell Beckhams on the roster.
That's why Brady is who he is today. Selected in the sixth round, an unknown, Tom Brady drank the Belichick Kool-Aid and went on an unprecedented winning streak. He's by no means the most athletically gifted. While obsessively hard working, the same could also be said of Peyton Manning. Brady's edge is sitting within the system and trusting it.
The 2018 Patriots Vintage
This season's version of the Belichick Patriots has been one of the most fascinating of all of them. Winners of the Super Bowl two years ago, but losers last year. Then a stuttering start and some mid-season blues. Then you start to hear commentators talking about the Patriots beating up on opponents with a brutal running game behind a revitalised offensive line. But look back at bringing on board the mountainous Trent Brown and converting him to left tackle. Drafting Sony Michel from Georgia.
Its brutal running game shift in style was put in place months and months ago. Ditto the defensive changes. We all heard how the Patriots defense was old and slow and soft. But the addition of a shut down corner in Stephon Gilmore was a great example of Belichick making one trade which allowed for the whole defensive philosophy to morph into something more aggressive up front, because pressure was eased at the back.
When it came to the big games, Belichick showed why he is the master. In the Conference Game he seriously blunted the explosive Kansas offense with his schemes. In the Super Bowl he turned Goff into a rabbit in the headlights with coverage change ups and an aggressive, stunting defensive line. When it really was on the line, Goff found the game's first all out blitz raining down on him and the conclusion of that play pretty much closed the book on the Rams.

Belichick Compared
Belichick in the pantheon of NFL coaches? The best: to deliver such a winning run in such a short time in the era of the salary cap clinches it for me. In other sports, John Wooden's ten NCAA basketball titles in twelve years is stout, but the eco system of college sports can lend itself to dynasties more easily than the pro game. Nick Saban, the close friend of Belichick and another process-driven coach, is highly impressive but again Alabama have a seriously tilted playing field with their recruiting clout.
In non-US sports, football's Sir Alex Ferguson, 13 league titles and two European Champions titles in 26 years, 38 cup wins and titles in total. I'm a huge Ferguson fan, but he had the financial firepower of one the world's largest sporting commercial operations behind him. I would like to select a New Zealand All Blacks coach, but there the culture and process has outlasted several coaches, although Steve Hansen the incumbent, is better than most in my view.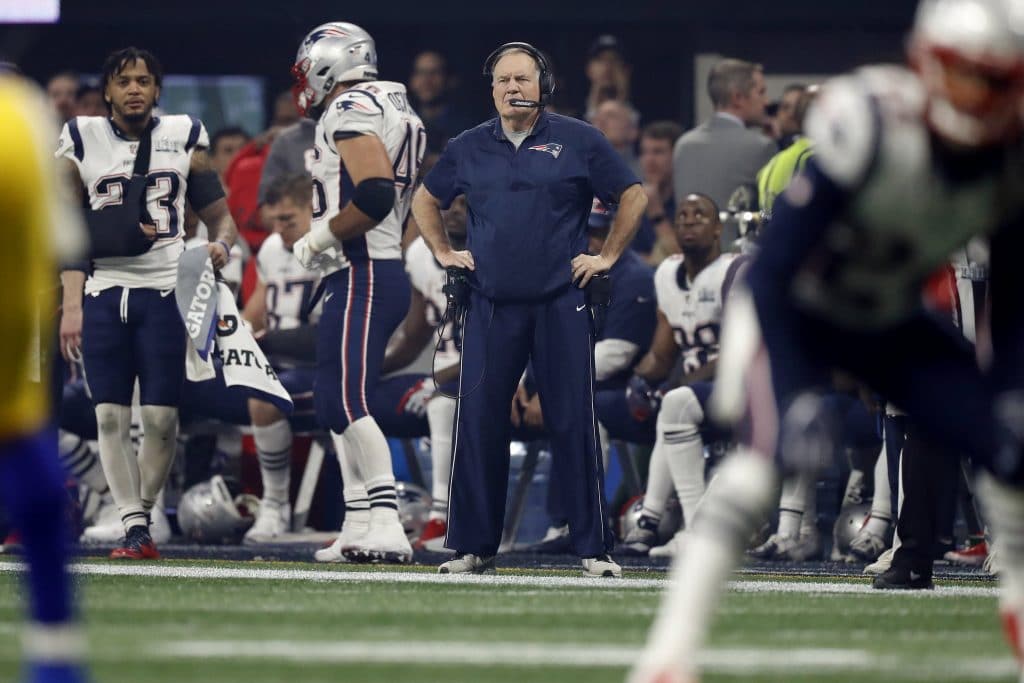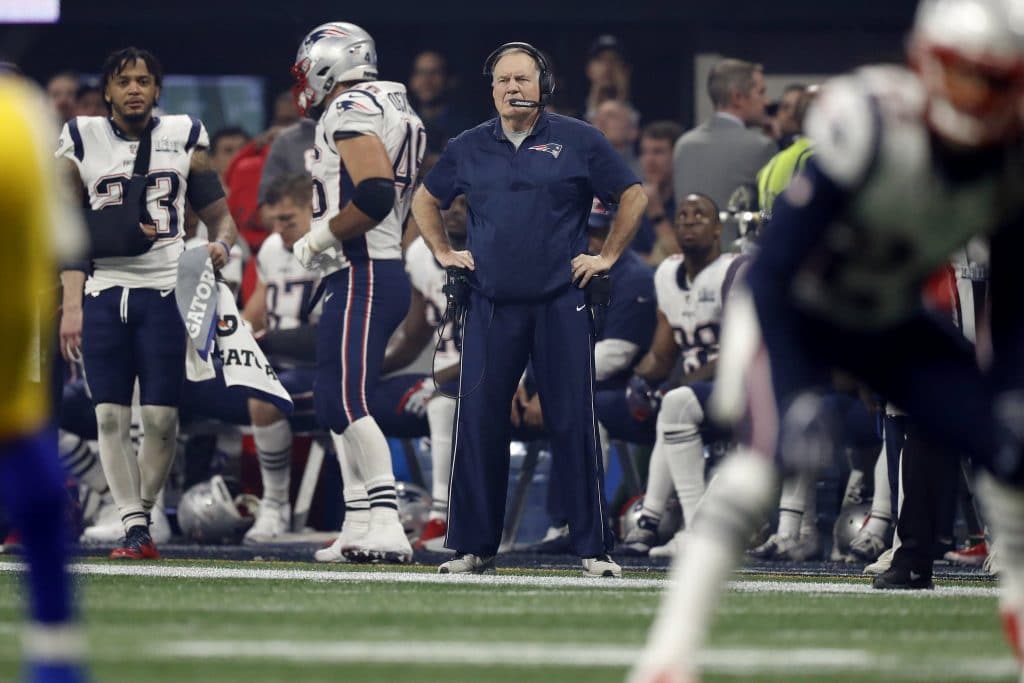 GOAT: Brady, Belichick Or Both?
GOATs? I would give Bill Belichick the Greatest Of All Time award as an NFL coach without hesitation. He is as good as anyone in coaching, any sport. I can't even think of who stands alongside him. I'll go with Coaching GOAT. Tom Brady is much more difficult, an NFL GOAT when Super Bowl wins are the yardstick. The ultimate cold eyed closer of the pressure game and for me the quarterback GOAT, no doubt. Within sport more widely, I'm less sure. My resistance comes from the Belichick factor. Would Brady have won six under any other coach? – not a chance. Would Federer have won 20 Grand Slams regardless of coach – for sure.
Closing out, the big question is how long can the New England Patriots dynasty continue? A 41 year old Super Bowl winning quarterback is incredible. He wants to play until he is 45 and has had a golden run when it comes to avoiding serious injury. But one day it won't be there and I hope we don't see him overstay. There are few sadder sights in sport than the great who doesn't know when to hang up the gloves or shoes. Belichick for sure will continue to coach for at least five more years. Now we all know the game is up for New England, next year Mahomes and the Chiefs will take them to the woodshed. We've heard that before though.