Sponsorship in pro cycling is an important dimension in my professional life. I don't normally mix my business and personal perspectives directly on this blog. It's my personal blog. But I'm a long time fan of pro cycling. This subject brings a personal and professional crossover. I wrote this blog in 2018 originally and it's one of my top three posts in terms of traffic and engagement.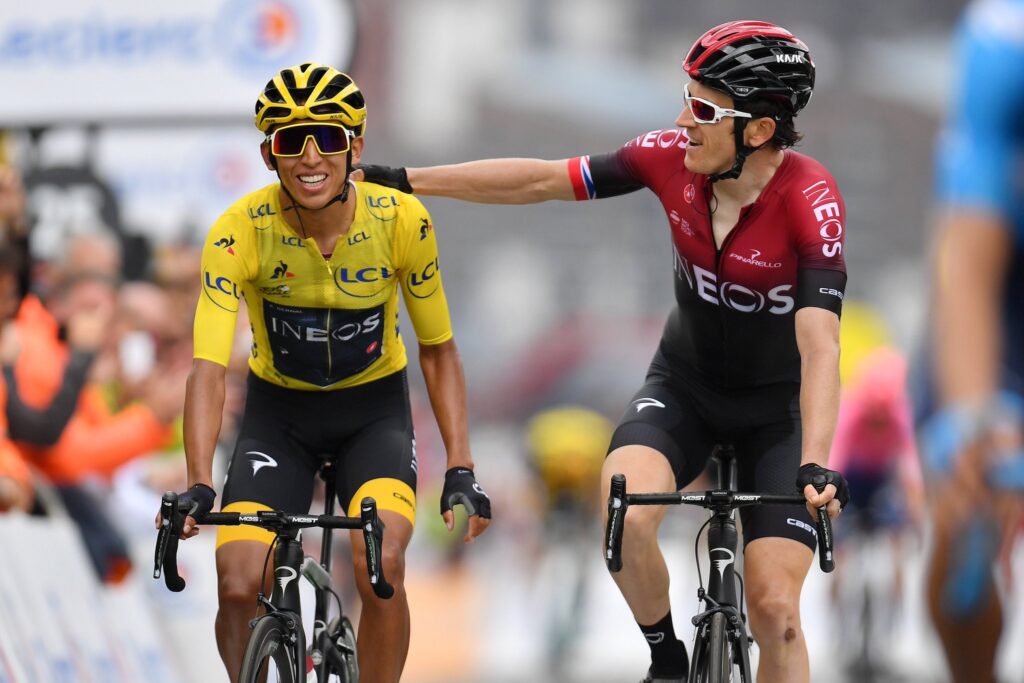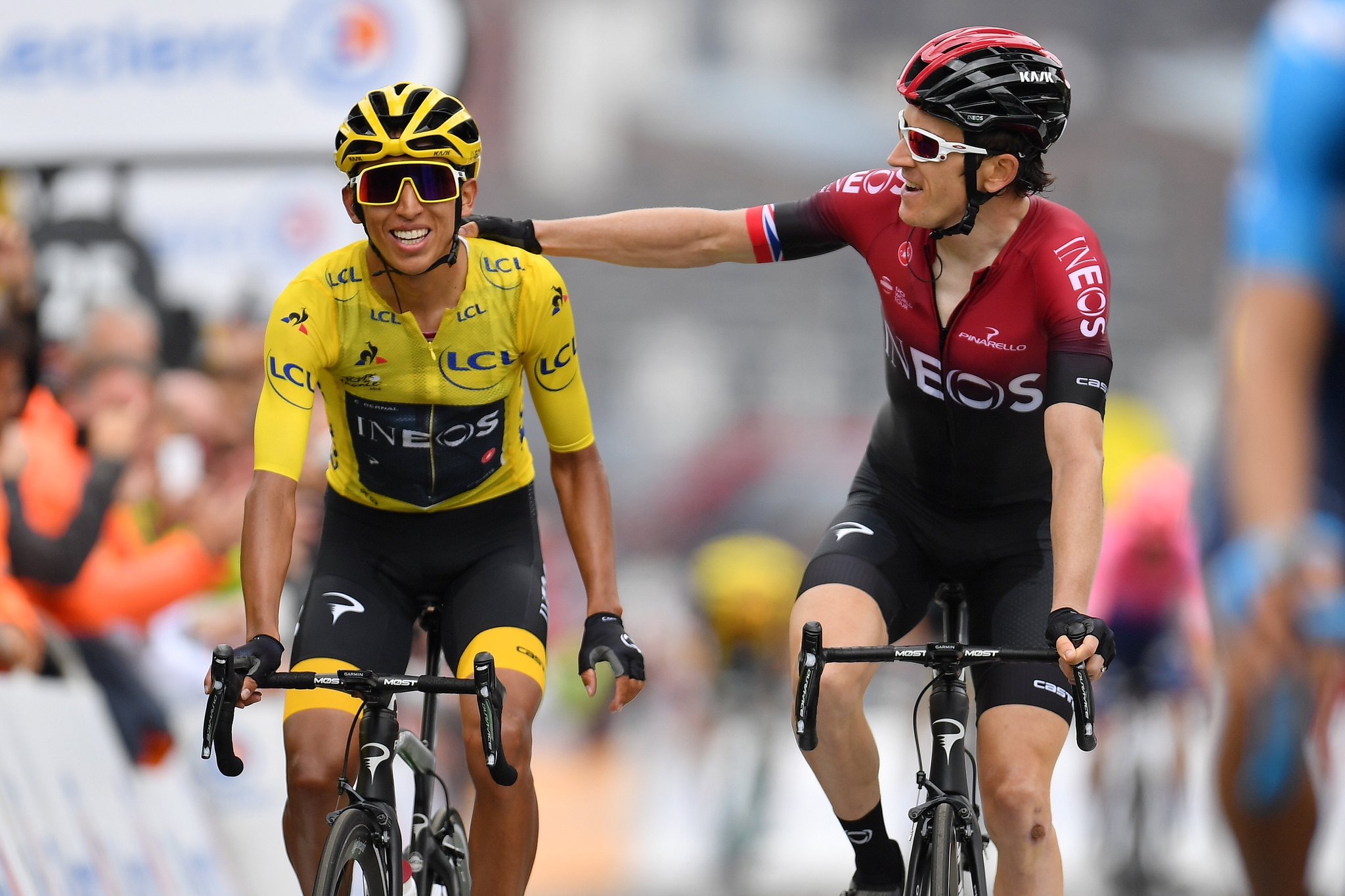 At work, we recently extended our relationship with INEOS Grenadiers (formerly Team Sky) for a further three years and it prompted me to reread the post. It's possibly even more relevant now, as digital marketing allows us to be more targeted in the relationship with Ineos. Their attitude to us as a sponsor has also modified in the period since this blog first went live.
I haven't changed the first nine sections, I believe them still to be relevant, and they also provide some context to the nature of today's sponsorship relationship. Feel free to skip to the last two sections if you've read this post before.
Our Cycling Journey
I've got a few opinions of the state of pro cycling from a sponsor's perspective. A number of stakeholders have been having their say recently and I can see where they are coming from. But in several cases, I believe the thinking is flawed. I work for a company heavily involved in cycling. We provide nutrition products to endurance athletes in cycling, running, triathlon and several other sports.
The revenues of the business are around five times the level of when we bought it six years ago. But now, as then, about two-thirds of our business comes from cyclists. It can be argue that cycling is slowing down in our core market of the UK. I have publicly argued that angle is overblown. It is growing in many global markets. We have expanded into 85 countries and have strongly growing businesses in countries such as Italy, Russia and Colombia. We launch in new markets regularly. The past month seeing China, Israel and Argentina shipping first orders.
Team Sky is our main sponsorship in pro cycling. This was our first year with Canyon//SRAM women's team too. A product deal is in place for another men's pro team. We sell our products to several other pro teams. Don't be fooled that 'official nutrition sponsor' necessarily means that's what the riders use. We are nutrition sponsors to British Cycling, USA Cycling, and Cycling Australia. Under the radar, we help out scores of Olympic and amateur athletes across the world with nutrition. Our business is entrenched in serious cycling. We are now making inroads into professional soccer and are starting to become the nutrition of choice at the highest level. But as much as we grow in other sports, our sales in cycling grow. We will always be a cycling brand at the core.
Is Pro Cycling A Closed Shop?
It's been a colourful journey, part of this due to cycling being such a traditional sport. It is quite closed to new people who are perceived to be outsiders. I've heard all the muttering about us selling out and not being a cycling brand anymore. Yet the revenue numbers and brand recognition scores tell me we are even more entrenched in cycling. Just not in the way traditionalists want us to be. But as always, the numbers speak and we are proud to call over a million cyclists customers this year alone.
The key players in pro cycling contribute heavily to the sometimes strong insularity that underpins the traditional nature. I attended a conference with a colleague and realised we were sitting next to a very high profile administrator. We introduced ourselves and the gentleman was non-communicative to an uncommon degree. I'm a high introvert who is uncomfortable in social situations. But this guy had me on the ropes with his non-engagement.
We later watched a presentation by a cycling team owner and at the end we went over introduced ourselves. A broadly similar non-engagement ensued. We huddled in a corner and drank typically poor conference coffee. Interrupted only by loud belly laughs from across the room. Yes, you have it, our two reticent colleagues were together in their comfort zone. "It looks like we aren't part of the inner circle here" we reflected.
Why do I tell the last story? Because I think it is indicative of a semi-closed sport at the pro level. A sport which can self-pity a little, which can revel in its underdog status. One which is very traditional not only on the road or track, but in administration and commercial dimensions too. Our business invests a seven-figure sum into sponsorship each year and it's a model that works for us. But it works for us in a way that very few people understand or even seem to want to understand. That's one of the issues with cycling. Some players largely don't want to or don't understand what a sponsor might need from the deal and I think they are missing a trick.
Growth In Pro Cycling
Why do we like the sport of cycling? It's big, it's growing, it's global. Amateur cyclists at all levels engage and are loyal. They like good content, they think about it and they let you know. Are open to new ideas and like to try new products. They are passionate about their sporting heroes and teams. It's a more diverse audience and it's getting younger according to our data. Forget the late 40s 'cycling is the new golf' stereotype. We are seeing the average age of our consumer fall, which tells us new enthusiasts are joining the ranks. More women are becoming involved in the sport. The enthusiasm for our engagement with Canyon//SRAM underlined the growth in women's cycling. Our day to day audience is energetic and engaged.
Sponsorship in pro cycling falls into a few different categories. The wealthy individual who can take a short or long term view of the sport. For example, the late Andy Rihs at BMC or Oleg Tinkoff. The large corporation looking after one of its national teams, even though not primarily in the sport, for example. Whichever companies the very experienced Patrick Lefevere can put together to fund his juggernaut team. Trade sponsors like ourselves, helmet companies, clothing companies, etc. Sponsors range from huge brands with massive brand awareness, where a cycling deal is tertiary to their marketing efforts. Through to small startup businesses where a deal with a team can make or break their chances of survival.
Is The Business Model Broken?
I hear often the dialogue that the pro cycling business model is broken. It is in the respect that it heavily relies on sponsors to bring forward cash and goods and know-how. It takes £15m-£35m or so annually to fund a world tour team now. Higher rider salaries and a punishing travel schedule increase this cost. The headline sponsor is key. A big cheque is needed each year. And it's tough to get riders and staff to commit without certainty of the future stability. There can be up to 35 more minor sponsors providing goods. In our case some cash and goods and advice. It's not an easy task for team principals to keep stitching this together year after year. Sponsorship in pro cycling is essential to keep the wheels turning.
I read very often about TV rights and how teams should receive a healthy share of that. How it would really help in shouldering the financial load. I'm skeptical about that, as someone who is offered TV rights to Grand Tours on a regular basis. I can say that the cost of buying a healthy TV advertising package has plummeted in the last five years. But guess what? — the audience size and therefore the potential return has also plummeted. The fragmentation of digital media has blown up the TV revenue stream, if indeed it ever did exist.
The next idea proposed is why don't ASO, the owner of Tour de France and La Vuelta, divide up their profits with the teams? After all they don't exist without the teams, right? Revenues for ASO are over 200m euros and profit is around 45m euros. But let's keep in mind it is a diverse sports and media group. It could be that the world famous Tour de France only accounts for slightly over half the revenue. Some of the cycling events are breakeven at best. There is no case to say ASO make 45m from cycling, but let's say that were the case. If they contributed half of all of their profit to world tour teams, it would only add up to 1.25m euros per team per annum. This is not a game changer.
A New Way To Engage With The Cycling Fan?
I listened to an excellent podcast by Cycling Tips a few days ago. The team interviewed Jonathan Vaughters of EF Education First Drapac p/b Cannondale Pro Cycling team. The team principal made the case for his new collaboration with Rapha. A new model for sponsorship in pro cycling. They are extending beyond traditional pro cycling into gravel riding and ultra-endurance events to draw more people into the sport. I can see that from Rapha's angle, they need to continue to grow through cycling and cycling only. They are a hyper-focused brand. Vaughters also made a case for engaging with fans differently. He pointed to riders with their own large social media followings and 'different' takes on cycling.
I'm not fully convinced. Big name cyclists can have huge and very wide pools of social media followers. When these riders speak on behalf of our brand, we can track the financial return accurately and immediately. We do regular research, tracking attitudes on mainstream teams and athletes in a number of sports, but mostly in cycling. I personally follow some of the aforementioned new wave of athletes. I find them engaging and entertaining. But it doesn't move the needle with a large swathe of cyclists, the athletes have very low awareness. The major teams and riders still rule the roost when it comes to awareness and likability and trust measures.
Interestingly, we tracked some riders through recent scandals. The cycling consumer at large isn't moved much by such news, so don't get too sucked into believing the loudest people on social media are representative of the general mood. The cycling public at large accept it isn't all black and white.
Our Best Sponsorship Deal
I've dealt with Team Sky for three years now. I read a lot of stuff about their unfair advantage of a deep-pocketed sponsor. How this gives them an easy ride and how they ruin the sport. I read column inches about them being perceived as boring. but once again our consumer tracking shows they get more popular. Take the 'boring Sky' and 'Sky bad for the sport' stuff with a pinch of salt. The focus tends to be on the stuff they do on the road.
The operation that doesn't get talked about is the backroom commercial operation. It's populated with business development people with experience, for example, with Manchester United and Manchester City. People who know how to reach out and engage with sponsors and help them develop a viable business case.
We work with Sky and can address a substantial database of Team Sky fans with our marketing material. A good proportion of those go on to be repeat customers of ours. Team Sky products feature in our range and they sell well.
We can track very accurately the hard and soft cash we invest into Team Sky. We also track the return we get to a very granular level. It's a very good investment. They are leagues ahead of other teams we have dealt in the sport in this commercial capability. That's why I don't buy the unfair advantage argument. Look behind the scenes. They earned it.
Commercial Capability In Pro Cycling
Returning to the missing capability in cycling. Many cycling teams lack the capability to know how to deal with sponsor and help them monetise their investment. There are a lot of good people in cycling. A lot of good managers who know knit fog to keep the show on the road year after year. I have massive respect for these people, without them the sport would be in a more parlous state.
Then there are the type of people described who can't or won't engage with prospective sponsors for reasons of their own. I'll call it out and say there's an element of arrogance and self-importance in the mix. With a good dollop of insularity dropped in the bowl. To make it a concoction that some prospective sponsors don't want to engage with.
I made the mistake, in answering a question from a stalwart of the domestic scene, of suggesting investing in a commercial manager. Following the Team Sky approach. The response was withering, apparently you can sign another rider for the cost of a commercial manager. My response was that with a decent commercial manager you may have the funds to sign more riders. There was not a meeting of minds.
How About Engaging With Sponsors?
My own view would be that teams and administrators in the sport should engage more with sponsors. To understand their perspective and requirements. This community too often gets taken for granted. It's almost as though they will show up when all the stakeholders have had their discussion.
There has been a discussion around the health of the UK domestic sport recently. I was asked to consider being part of a group of sponsors who would help with a new funding platform. In principle, of course, was my broad response. Then it went quiet. When I enquired again I was told that meeting had been held with teams and race organisers. They now needed some brands to 'invest'. The missing conversation here is involving potential sponsors in the early running. History repeats itself, the same people have discussions and then ask for sponsors to show up.
I discussed the sponsor's perspective with a very good cycling journalist, one I respect a lot. He patiently listened, I could tell he was nodding but not really listening. Attitudes and behaviours in the sport are very deeply ingrained. I'm not sure I was fully forgiven for saying he was part of the problem. Being embedded in a very traditional sport not known for embracing great change. Sponsor stories are quite often those of teams losing a sponsor and the subsequent plucky fight for survival. They are negative stories for the sponsor. Fan comments below the articles saying "why can't they see it's great value to sponsor Team XYZ?" Usually, it's not great value is the brutal truth.
There's a gulf between what some sponsors want and what team managers think they want. A well-known team director said recently "what sponsor wouldn't to see their name on a pink shirt on the front of La Gazzetta, that's the ultimate." That's a huge assumption. Why don't some of the key figures at least try and learn a little more about how a sponsor's business model works?
Pro Cycling Will Endure
Pro cycling will endure, it will always endure. I have huge empathy for every team owner struggling to make ends meet year after year. Actually, scratch the word 'every' because some of the 'innovative models' used recently don't bear the flimsiest scrutiny. You know that I don't think the mythical TV revenues are the answer. Even if we robbed the bank of ASO that wouldn't help much either.
The digital world does open up new revenue avenues for teams. A well-marketed team can build a following that sponsors can use to generate a return. A major blockage is that all parties don't talk. Teams and race owners and federations talk, not always effectively, but they talk. A major theme tends to be funding. I don't see sponsors being invited into those discussions on the future of the sport to a huge degree.
Do I have an answer to the financial issues? No. But there can be a healthier dialogue with all stakeholders. At least we could start the journey.
Anyway, that's that off my chest. Don't get me started on the issue of banned substances, or that will be an even longer diatribe.
The INEOS Grenadiers Era
A lot changed after I wrote this in 2018. But a lot stayed the same. Shortly after I published the post, Sky announced they were terminating their support of the cycling team after ten years. This dominated the pro cycling landscape for weeks. Sadly there was some unseemly commentary from a couple of leading figures. Essentially saying, "good, we have a chance to compete now." Rather than focusing on what they might do to get better.
Team INEOS came into being some weeks later. Team Sky has a new guise. I do know that there were other suitors for the title sponsor berth too. The message is that if the product is good enough, global sponsors will come. In the UK, some long-standing domestic teams sadly folded. The fundamental financial issues remain. The challenges of sponsorship in pro cycling remain.
We signed up with Team INEOS, who later became INEOS Grenadiers, and we were glad to do so. For a period, everything remained the same. But nothing stays the same, either in business or sport. Grenadiers began to be challenged more on the road, with the Dutch team Jumbo Visma coming to the fore and giving INEOS a taste of their own medicine. Now it was common to see a phalanx of yellow-clad Jumbo riders grinding it out on the front.
Cracks were beginning to appear in one of the most dominant teams in sport.
Winning Again – Everywhere
Dave Brailsford, the Grenadiers team principal, doesn't give up. He obsessively pursues success, and he gets it done again and again. He leads the sport's most successful team in Grand Tours ever. Seven wins in the Tour de France, three wins in the Giro d'Italia and two in the Vuelta a España. There's an argument that this is the most successful sports team ever. The New Zealand All Blacks and New England Patriots might take exception to that, of course.
The team has a very wealthy owner in Sir Jim Ratcliffe, and as a result, they enjoy the highest annual budget to deploy into talent, training and equipment. It doesn't mean a free ride for sponsors, however. We had a long negotiation as we renewed for another three years, as Dave Brailsford needs to show some revenue stream from sponsors. This in addition to the resources and expertise sponsors such as ourselves bring.
Digitally Winning
But we are winning again too. Our own digital marketing model enables us to connect directly and instantly to events in the team's programme. We can invest and measure the return in real-time. The best example we have recently is when the prodigiously talented Egan Bernal took the Maglia Rosa leader's jersey in this year's Giro d'Italia for the first time.
We sent out an email campaign celebrating Egan's win within an hour of him crossing the line. We then watched the traffic to our website climb sharply, conversion improve, and us eventually logging one of our strongest trading days of the year in Italy, the UK and the USA. There's a directly measurable piece of high return from a sponsorship deal. But a very different mechanic from the traditional model. Grenadiers are very digitally savvy; we are increasingly basing our model on digital marketing too. Put that together with our growing International reach and Grenadier's global awareness through its truly diverse roster, and it's a great match. We aren't on the team shirts, and we don't really care about being on the front page of La Gazzetta.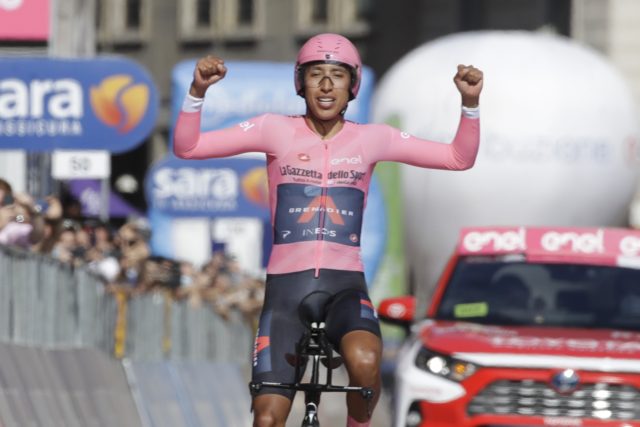 It's Entertainment
Tao Geoghan Hart seized the day in the 2020 Giro, unexpectedly taking the win. Nominated team leader Geraint Thomas fell badly early in the Giro, leaving the best-laid plans in tatters. The philosophy for the team then changed, with INEOS riders firing off the front and challenging for stages on several days during the remainder of the race. The same again in the Vuelta a España that rounded out the season.
Dave Brailsford talked openly of a more entertaining style of racing from now on. No more Sky Train grinding it out on the front, throwing opposing riders out the back like so many shavings from a wood-chipping machine. The cynics of the press and social media had a field day, suggesting this change in philosophy was all too convenient. They would soon be back to the INEOS train once all the robots were fixed fit.
The truth has been in the middle. The team are deploying the swashbuckling and robotic styles, and they are looking on ominously good form. The fans love it – trust me, we hear from them. The sponsors have to be enjoying it too. Is it an accident? Probably not; Dave Brailsford has ear-holed me several times, asking what more the team can do to provide more value for us, the sponsor. There's an acute awareness from him that the team has to generate some form of revenue stream. In return for that, the team know they have to deliver more. And in the digital age of sponsorship, there are more ways to achieve that.